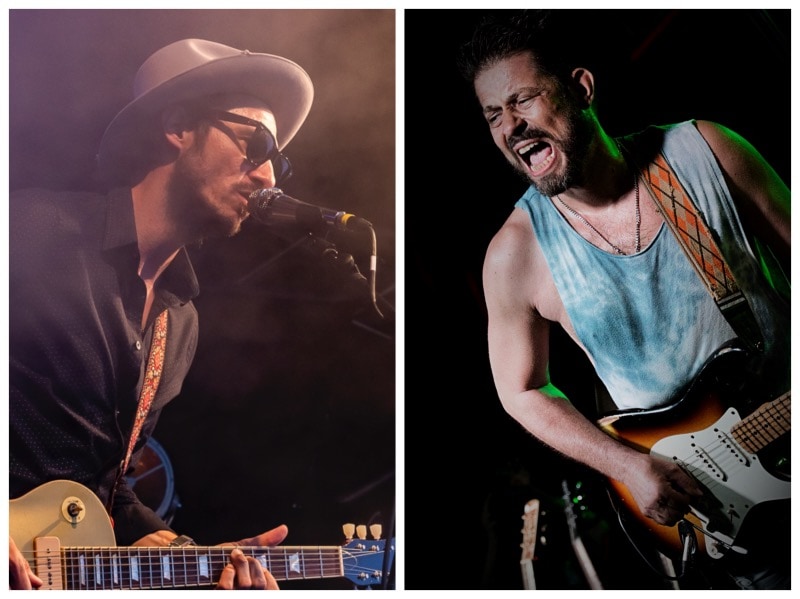 Singer-Songwriter- Gipfel mit Timo Gross und TG Copperfield
PLEISWEILER. Das "Blues and Roots"-Festival geht zum siebzehnten Mal an den Start. Vor siebzehn Jahren trafen sich die Winzerin Evi Ullrich-Friedrich und der Profimusiker, Komponist und Produzent Timo Gross das erste Mal, nachdem der Künstler zu seinen Wurzeln in die Südpfalz zurückgekehrt war. Nach einer halben Stunde war die Idee geboren, hochkarätige und querdenkende Künstler -abseits des Mainstreams- im unvergleichlichen Ambiente ihres Weingutes zu präsentieren. Dabei standen immer spontane Begegnungen von Künstlern im Vordergrund, die sonst nicht miteinander musizieren.
Am Samstag, dem 17. Juli 2021 trifft Timo Gross erstmalig auf den bayerischen Songwriter, Gitarristen und Sänger Tilo George Copperfield, der ständig auf der Suche nach dem nächsten Song ist. Mit acht Soloplatten im Gepäck hat sich der sympathische Workaholic und Mastermind der Southern-Bluesrocker "3 Dayz Whizkey" einen festen Platz in der deutschen Blues- und Rocklandschaft erspielt. Wenn man Copperfield nun denn unbedingt in eine Schublade müsste, könnte man ihn als Heartland Rock and Roller und elektrifizierten Americana-Songwriter klassifizieren. Doch bei genauerem Hinsehen erkennt man seine tiefe Liebe zum Blues und eine melodische Herangehensweise, die man auch als Pop-Sensibilität bezeichnen kann.
Dabei ist Copperfield auch ein ausdrucksstarker und expressiver Gitarrist. Seine Gitarrenarbeit steht immer im Dienst des Songs, aber live auf der Bühne kann er wirklich alles rausreißen und jedes Stück in ein massives und umwerfendes Jamerlebnis verwandeln.
Unter Einhaltung der Corona geschuldeten Hygienevorschriften findet die Veranstaltung in diesem Jahr wieder nur an einem Tag und im Freien vor dem Weingut Ullrich statt. Deshalb bitten wir das Publikum, passende Kleidung mitzubringen, da noch nicht abzusehen ist, wie uns der Wettergott gesonnen sein wird. Das Musikprogramm beginnt um 20:00 Uhr, Einlass und Bewirtung ab 18 Uhr.
Mit einem kulinarischen Überraschungsgenuss und Ihren mehrfach ausgezeichneten Weinen lädt Evi Ullrich-Friedrich zu einer Auszeit aus dem Alltag ein – und hat mit Timo Gross einen ebenso kreativen wie renommierten Partner für ihr Festival gefunden. Der Bluesmusiker, der 2012 den Preis der deutschen Schallplattenkritik für sein Album "Fallen from Grace" erhalten hat, ist auf Bühnen in ganz Europa zu Hause. Nicht nur das Magazin Eclipsed feierte ihn in einer Kritik als den "neuen Helden der deutschen Bluesszene".
Weitere Informationen:
Auf einen Blick:
17. "Blues and Roots"-Festival am Samstag, 17. Juli 2021
Weingut Ullrich
Schäfergasse 25
76889 Pleisweiler
Veranstaltungsbeginn mit Bewirtung: ab 18 Uhr Programm: ab 20:00 Uhr
Eintritt: 20 Euro
Reservierungen (dringend empfohlen): post@weingut-ullrich.de oder Telefon 06343/2312